GA4: New & Improved Features
Back
Print
---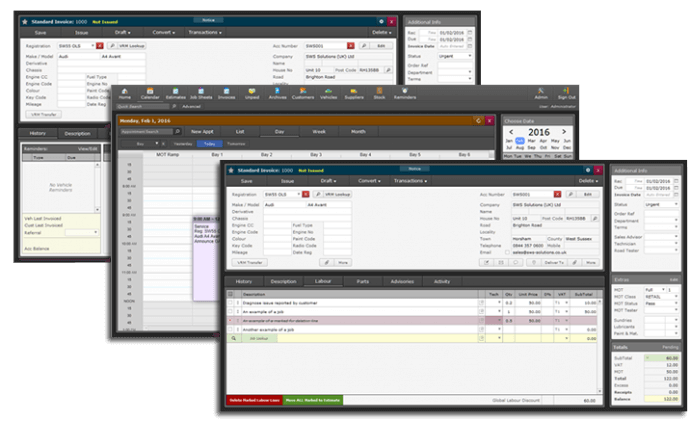 GA4 is a complete rewrite of our system from the ground up, everything has changed in one form or another but should still feel familiar to existing users of GA2 and GA3.
Below you will find a list of the of the key changes, improvements and additions available in Garage Assistant GA4, which will continue to be improved and built upon.


Operating System Compatibility:
---
GA4 is designed for Windows 10, the current versions at time of writing.
If you are using GA2 or GA3 on the latest versions of Windows, then it is highly recommended to consider the upgrade to GA4. These operating system versions did not exist when GA2/GA3 was developed / released, as such, you may encounter compatibility issues.


Integration
---
New - GA4 provides integrated access to E3 Technical, giving you access to OE equivalent data such as Repair Times, Service Schedules, Technical Documents, Drawings, Wiring diagrams, Diagnostic Information and more on a pay as you go basis.


New - GA4 Used Vehicle Sales/Purchases. A new module in GA4 allows you to produce used vehicle sales and purchase invoices for both margin scheme and vat qualifying vehicles, alongside stock lists, vehicle spec sheet printouts and more. Currently, this is a BETA version of the module that may be missing features and is subject to change (read: improvement).
Customers & Vehicles
---
Improved - The reminder system has been designed to have new trigger dates for each type of reminder giving you different dates for different methods to be sent - for example, you could now be able to send a reminder within 30 days via letter, an Email within 7 days and even an SMS within 2 days. You can also define your own reminders types, as many as you require.


Improved - The reminder system can now combine multiple reminders for the same vehicle, that fall within a similar time span, into a single reminder for your customer.


Improved - Correspondence Options - Via Print / Email / SMS - Types of things you could include - Agreements / Terms / Offers / Satisfaction Notes / Account Overdue / And anything else you could think of.


New - Vehicle Image - Car, motorbike and truck images are now available to choose from when adding a vehicle > Notes section.


New - Customer Communications - The ability to record customer communications, such as making notes after a phone call. The system also automatically tracks some actions.


New - Customer Privacy options, allowing you to disable reminders, mass mailing, email and/or sms communications on a per-customer basis and also includes an indicator so you know the privacy options have been set based on your customer preference.
Documents & Appointments
---
Improved - Document type (standard / account) is now determined by the selected customer, rather than which button you press to initially create the document.



New

- Documents are no longer restricted to 250 (Max) Labour & 250 (Max) Parts lines, for printed documents. These are now potentially unlimited.



New

- History & bookmarks - Shows you a list of the last 20 viewed / edited documents, appointments, customers or vehicles for easier and quicker navigation to and from documents being worked on.



New

- Print Advisories - This option is now available from all documents.



New

- Labour now has the option to be 'Outsourced'. Reports now show this information relating to profit on outsourced labour.



New

- Any discount given is now shown in the subtotals section of printed documents and also included in business reports.


New - Insurance excess documents - You can now apply discounts on the excess amount without it reflecting on the insurance document


Improved - MOT Prices - Figures can be adjusted within a document for both Cost & Retail.


Improved - User Logs - Records more information when changing specific items within a document, including when a change alters the final pricing.


New - Option to Void or Delete a document from the system. A void document remains on the system for viewing only and a deleted document means it's been removed from the system completely.


New - Labour / Parts Shown - You can now choose to have either Labour then Parts or Parts then Labour printed on documents.


Improved- GA4 now displays and prints numbers in a larger range, such as 10,000,000.00 when compared with GA2 and GA3 which may have shown a question mark.


Improved - Customising Documents Layout - We have combined Invoices/Estimates & Job Sheets together making this a much easier set-up process. Rather than template styles that cover a small variety of changes, these are now options that can be enabled / disabled, with numerous additional options available for customising your documents.


New - Line Items - Ability to temporarily disable lines items which can be used when discussing work to be carried out for the customer. For example, you could disable items to see how much it would cost without them, in order to stay within your customers budget. You can then either re-enable, delete or move these to an Estimate for future use.


New - Vehicle Damage Image for Cars / Bikes - When using a VRM lookup the system tries to sort whether it is a Car/Bike to store against a vehicle profile to be used on selected documents.


New - Recurring appointments within the calendar system.


Lists
---
New - Calendar List Views - This view has the ability to be sorted and filtered by Dates/ Bays & Status which can all be printed.


Improved - Printable list views - Now available across the entire GA4 system.


Improved - List views - More sort options have been added to the list views to be able to customise the way in which you view information on screen as well as printed.


Improved - List Performance - We have added the ability to limit the number of records populated on list views to help speed up list views when loading. The system by default is set to 500, this can be changed to view more if required.


Suppliers & Stock
---
New - Stock Order System - The ability to easily enable / disable the stock order process, along with a variety of options to customise how it works.


New - Stock Received Print Out - shows what parts belong to which vehicle for easier parts allocation within the workshop.


New - Job / Stock Category Menu - Ability to navigate your data faster than before with this new menu feature. ( This can be switched On/Off as a user preference)


New - Stock Returns - Ability to choose whether the stock is returned to Supplier or Stock if it originated from an order within the system.


Admin
---
New - Multiple Payments - Add as many payments to a document as you require. All recorded with the date the payment was received with payment specific reports available.

New - Customisable Payment Methods - Define your own payment methods to suit your requirements.


New - Customisable MOT'S - Define you own MOT classes and rates and have as many different types as you require, using your own naming conventions and pricing structure.


Improved - Required Fields - More have been added to GA4.


Improved - User Restrictions - More options on how to manage users. With added 'View Only' ability.


Improved - Business Charts - Improved chart system so you can produce charts over a longer period, i.e 10 years. Charts will automatically choose the most appropriate format for display. Also added options to change the colour scheme used for the charts.


Improved - Business Reports - The ability to have more choice when it comes to the method in which you want to view the information whether it be on screen, PDF or Print.


New - Multiple Tax Rates - you can now add your own tax rates. Also, business reports can be produced to show a breakdown of the various tax rates in use.


New - Print Copies to a secondary printer - You now have the ability to send another copy to a separate printer. For example, could be used to print a customer copy to special paper and an office copy to a draft printer.


Improved - CSV Data Exports - These now have more in-depth and customisable options.


New - Sage Export - Set-up - Sage now includes a header in the export data which removes the need to add your own mapping. ( See Sage Exports Help - For more information )


New - Sage Exports - Now include departments for Sage Importing


New - KPI Reports - To assist approved body shops in compiling reports back to the manufacturer.


New - Create and Edit checklists, such as the Service Checklist.
System
---
New - Online Booking - Every user now has the ability to use this feature with no subscription required as you now can 'Pay as you go' which means you only pay for the bookings you get at a cost of 1 credit. Subscriptions are still available if you prefer that method.


New - Online Services Statistics Information - Statistics displayed on screen for Invoices / SMS / VRM & Online Booking Statistics.


Improved - Streamlined credits system - Use your credits across the system for online services such as SMS/VRM & Online Bookings.


Improved - Adobe Flash is no longer required for charts.


New - Statements - Now have the ability to preview a copy on screen.


New - Backup option - You can save a secondary backup to another location.


Improved - System information - A more in-depth overview.


New - Ability to add user or global notes on screen. User notes are only visible to the user logged into the system. Global notes can be viewed by all users.


New - Contact Support - contact us directly from within GA4 via the help menu.


New - Protected Backup Option - Backups can only be imported with your chosen password for added security.


Improved - Update system - Now allows us to deploy quick updates which don't require a data import, although some updates, depending on the changes involved may still do.


Improved - System Colour themes.



Improved

The entire user interface is now much more consistent compared with previous versions and should provide a smoother workflow alongside being much easier to navigate and find what you are looking for.
Print
Back to other articles